Check out this banter for the signs its time for fresh rubber.
"How do I know when I should change my tyres?" is an age old question we get asked. This short blog identifies common indicators to look out for to help you decide if its time for a fresh set of rubber or not.
1: Cracked Rubber!
If cannot remember when you last replaced your tyres, chances are they have been on for a while. We bike riders get wrinkles with age and bike tyres get cracks. Over time, tyres dry out resulting in the cracks and splits seen in the photo below. Tyres with cracks and splits are more vulnerable to puncturing.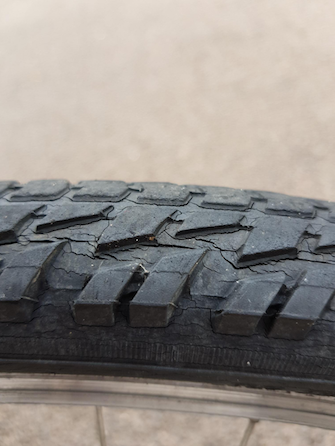 2: Too many Skids!
If you, like many of us here, like to lock your brakes up and send it sideways...you will wear through tyres prematurely. It simply rips the rubber tread away creating holes for any number of sharp objects to puncture your tube.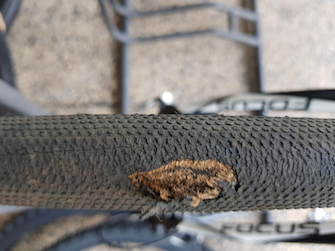 3: Perished sidewalls!
The problem isn't always on the tread of the tyre. Have a look at your tyre's side walls. If you can see cracks, separation of the tread away from the tyre, or thread coming the rubber, its high time your tyres retired.
4: Poor Grip / Handing
If you're lucky enough to avoid the sharp objects on the road, eventually your tyres will wear down affecting your handling and performance on the bike. Roadies will 'square off' whereby the middle/top of the tyre appears flat (as opposed to round). Whereas, mountain bikers will notice a loss of control and traction as the tread wears down. 
The Short and Sweet of It  
Cracks, shredding, degrading sidewalls and poor grip are signs your tyres are wearing out. If your tyres are showing their age, you will experience more flats and poor handling. If you're still not sure if you should replace them or not, roll on by the shop or send us a pic and we can make an assessment for you.
Blue Banter 
Kyle Boeyen