Posted on
By Jenny Anderson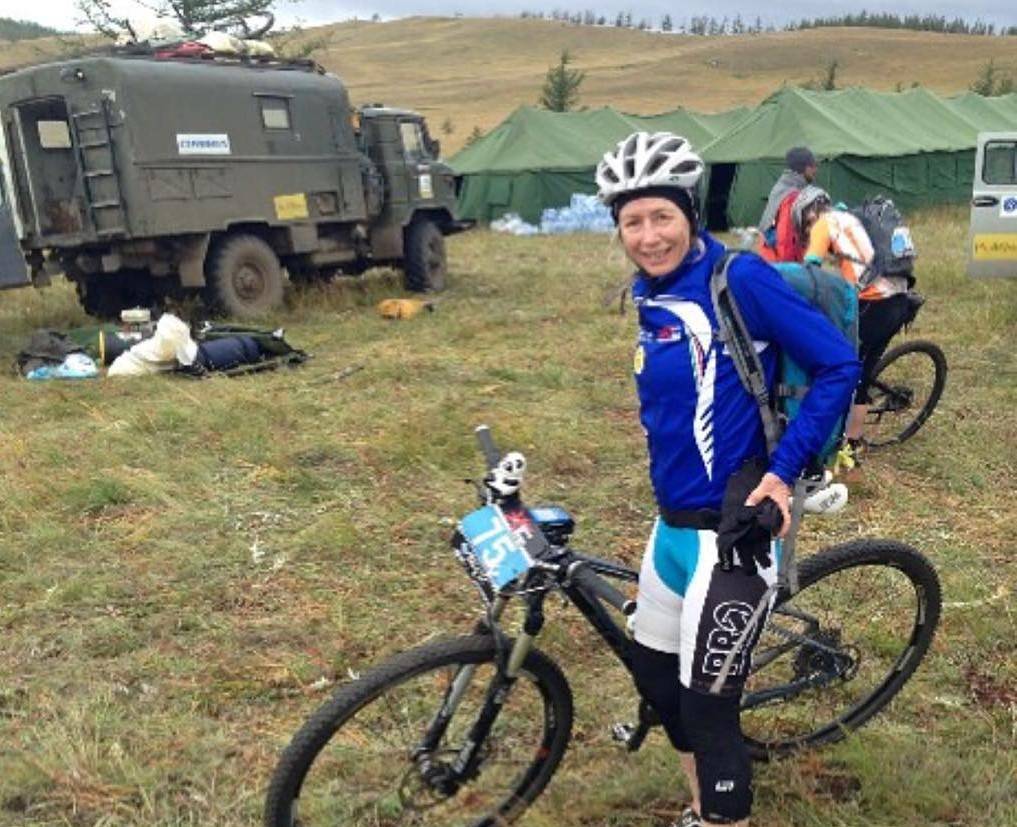 Looking for a destination multi-stage mountain bike event? Read about the race which keeps luring Jenny back.
I tentatively sat down in a dress shop in Singapore. No longer could I feign even the slightest enthusiasm as my MTB training partner, Robyn, disappeared in and out of the change room asking for my opinion. I was beyond caring about anything.  My mind and body were refusing to cooperate.  It was 2013 and we were on our way home from the seven stage, 700+ km Mongolian Bike Challenge. Pain and fatigue had overwhelmed me, but I was hooked.
I first stumbled across the Mongolian Bike Challenge when my beloved Tour de Timor looked like it was not happening that year. With a little prodding from Matt (my dear son), and the enthusiasm of John (endurance rider extraordinaire) and Robyn (training/chin wagging partner) I decided to give it a try.
One of the appeals of the race is that it is capped at 108 riders. But with only 10% of registrations being women, there are no sub-categories, let alone one for an "Old Woman" (Matt's term of endearment). But that suited me fine.
With John and Robyn on board, there was serious training and preparation ahead.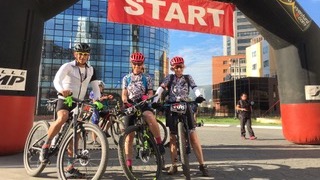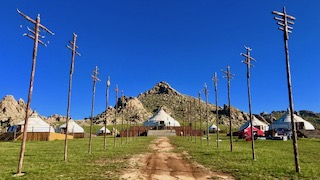 John, Kia and I on the start line of stage 1 and view of the final stage's finish line.
Race Info
Accommodation
The gers are always a treat to sleep in. Snug and warm on a bed! But you still have to bring along your own sleeping bag,  pillow and hiking mattress and keep in mind you are sharing a tent with several others. But, weather permitting, I would recommend what Kia and I did... We slept under the Mongolian night sky!
Food
Generally the food is good. As a vegetarian I had no problems. If you have any special dietary requirements, the organisers are more than happy to accommodate. But I found it handy to bring along my own snacks for between meals.
Race Nutrition
There is energy food available at the stations along the way. But I would suggest to bring along your own and what has worked for you during training/ racing. The food at the stations is a good backup. 
Weather
It can be searing hot (I took my own sunscreen), bitterly cold and soaking wet. It can be a juggle accommodating all three possibilities (especially when you are out there as long as I am). But since changing the race from August to September, the bitter cold seems less of a problem.
Tyre Pressure
An interesting conversation between two top riders before the race. One preferred high pressure tyres. The other liked his quite low. And the eventual winner? The low pressure rider. I think on long rides like this, go by what feels best for you.
Bike
For my first MBC I had a FOCUS Raven hard tail 29r which is what a lot of other riders had. But four years later, that had turned around. There were very few hard tails. I took a Specialized Women's Epic Comp Carbon…. and what a treat it was.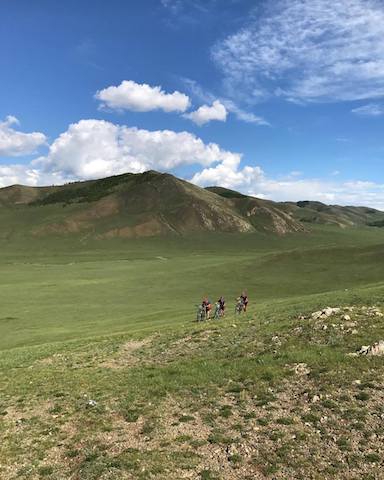 Many sections of the trail was so steep I had to walk up whilst pushing my bike beside me.
The many long hours I spent on the bike paid off. During the race, I felt strong throughout and fresh at the beginning of each stage. And the SAG wagon was always way behind hassling some other poor unfortunate rider.
But as each day passed, it became more than just a bike ride. At one point I stopped at the top of a particularly long climb to take in the stunning 360 degree view of the mountain ranges in the distance. This remote and beautiful country was once part of a vast empire ruled by the great Genghis Khan 800 years ago. I could almost see his people and army in the valley below.
But there is no time to dream for the testosterone fueled groups and those amazing women riders ahead of me.  For them, it is a serious race, but still very a much a "challenge".  Any small error in judgment, by anyone, even an elite rider (navigation, food, terrain), can mean being sidelined for a stage or even the whole event.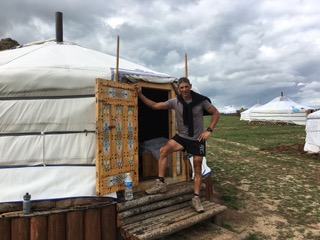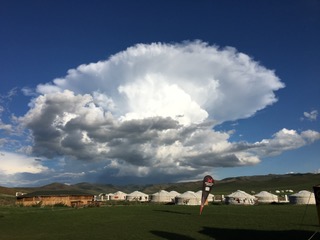 John in front of a cosy ger and our ger accomodation at the end of a stage.
One common problem with all riders is navigation There are, of course, markers along the route which sometimes simply disappear. But there's always backup with the course downloaded on whatever device you have. I do not know why it's a problem for anyone else. But for me, it's clear.   I only had the markers to guide me, so any lapse of concentration could have dire consequences, even at my leisurely pace. And it did. It happened on the sixth and longest stage of 175 km and an elevation of 1000m.  It was a nice break from previous stages with 2500m elevation over much shorter distances.  At the 135k mark, as I was going down a hill, I realised I had not seen any markers for a long time and the bottom of the hill appeared to be a dead end. My instinct was to squeeze the break levers. But in the millisecond after, I realised what I had done and was powerless to stop the sequence of events that followed. After a couple of cartwheels, I got up and in a fortunate stroke of serendipity, there right front of me, was the marker.
But true to sod's law, my left shoulder didn't feel too good and my right elbow was…. well… not working as it should. But it wasn't all bad news. My bike was unscathed. The last 40k required 100% concentration, all the while telling myself that a good nights sleep would fix everything. But in the end, I realised that wasn't going to happen. It was a huge disappointment. John went out of his way to help me drown out my grief supplying me with an endless flow of chocolate and stealing an urn from the kitchen to satisfy my insatiable desire for tea.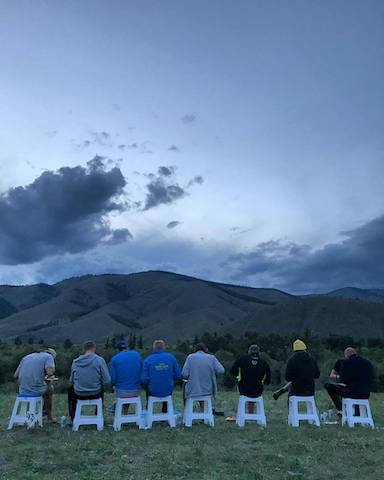 My favourite restaurant, best food and best view.
It took another 4 years before I could finally return and finish it off. But to believe that I could "wing it" with large gaps in training was a gross overestimation of my ability. The hills were inexplicably steeper and longer and I got to know the two local lads in the SAG wagon. But when they realised I could not be convinced to give up, they retreated to the gers along the way only to reappear at the end. But I finished. And I could, at last, legitimately wear a finishers jersey.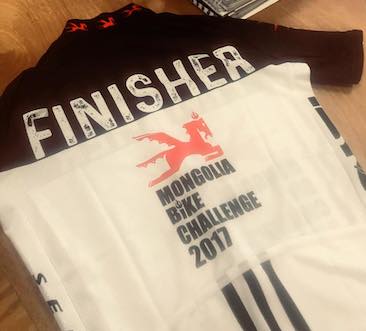 But the actual highlight of this Mongolian Bike Challenge was sharing it with my daughter, Kia. While I only ever saw her at the end, it was fun to exchange our vastly different experiences of each stage.
And it is, at all times, entertaining and a pleasure to be with John. In 2018, he finished the race for a fourth time and is going back again next year to equal the record of 5 times in the 10th anniversary of the race. And all the other riders from all over the world who come with their own stories are always an inspiration for me.
There is at least one more Mongolian Mountain Bike Challenge left in me. Or maybe, I'll just keep going back like John.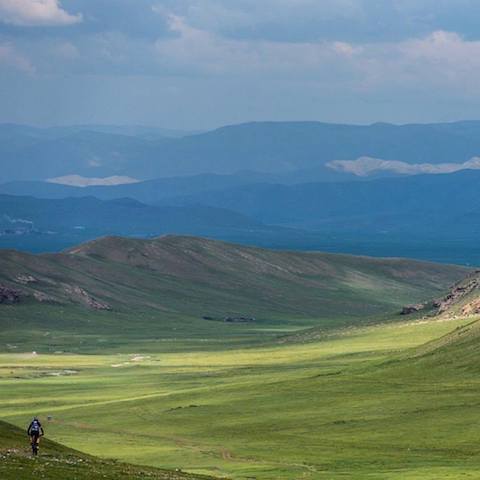 For more information about the race CLICK HERE
Blue Banter
Jenny Anderson